Why is Peloton emerging as one of the top home-based fitness option during the quarantine with 66% increase in sales, with a stock that's increased 77% since the stock market collapse on March 13th, 2020? It's not just about the hunk of sweaty metal, plastic, and electronics – they've tapped into a sense of belonging, even when we're physically separated.
Peloton is just what the isolated, activity-craving, homestayer needs to scratch multiple primal itches. It's true, ask anyone who owns at Peloton, and they will tell you all about it, till you promise to buy one for yourself.
Their secret sauce has many ingredients. But, as I surmise it, it's getting "A-DOSE" from the addictive tech-group-workout.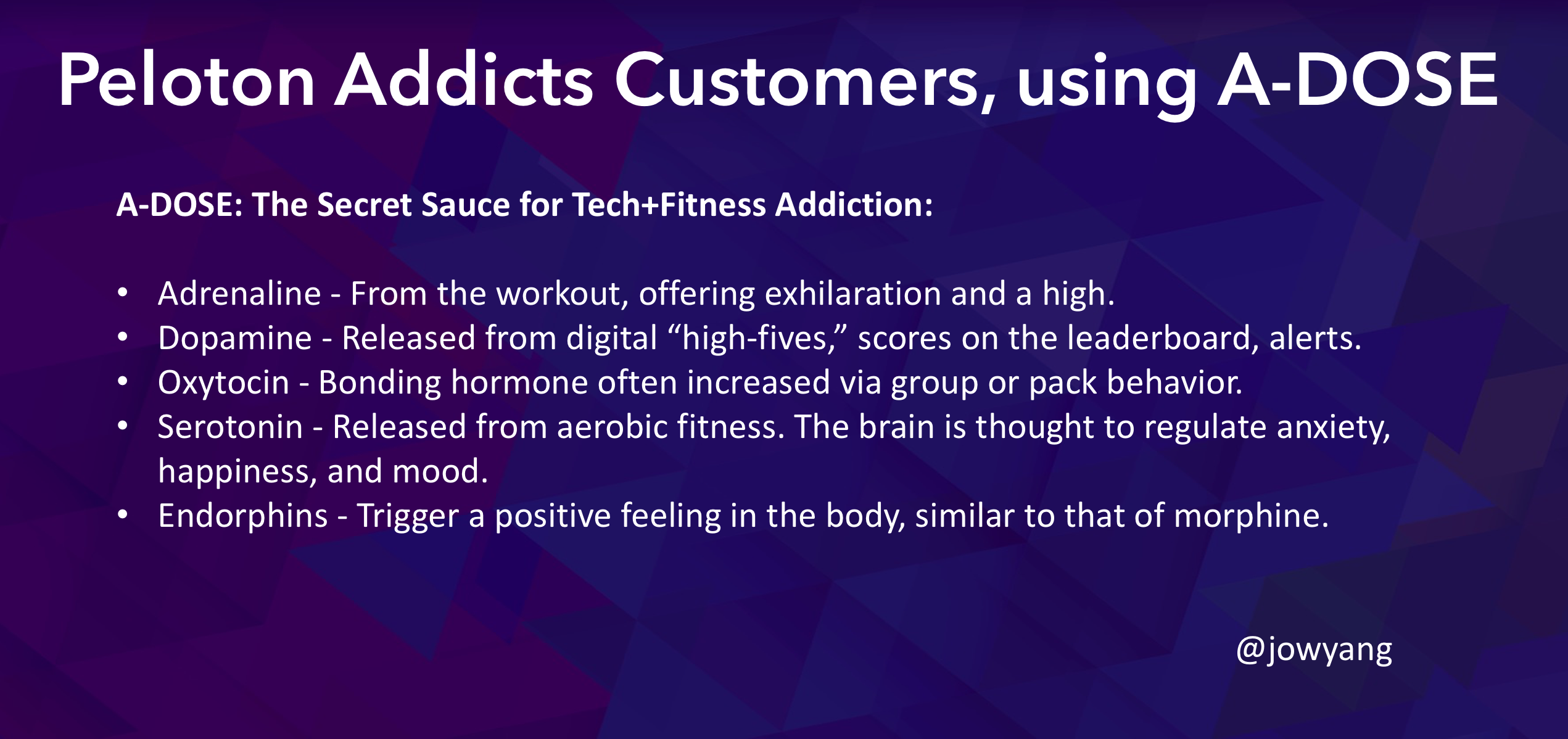 A-DOSE: The Secret Sauce for Tech+Fitness Addiction:
Adrenaline – From the workout, offering exhilaration and a high.
Dopamine – Released from digital "high-fives," scores on the leaderboard.
Oxytocin – Bonding hormone often increased via group or pack behavior.
Serotonin – Released from aerobic fitness. The brain is thought to regulate anxiety, happiness, and mood.
Endorphins – Trigger a positive feeling in the body, similar to that of morphine.
Social networks, casinos, and fitness experts already understand exactly how to use the above five natural chemicals, but we rarely see them used in such a strong combination, until the technology component was added on top.
I for one, am not a Peloton owner, (I have a far worse condition as a CrossFit acolyte), so I needed to interview some Peloton users to better understand why they're so addicted. I asked 15 different owners – what makes Peloton so addictive? Yes, I was that direct, here's what they told me:
Convenience: This was a major reason why folks love the brand. Customers can roll out of their pajamas and onto the bike, there are no worries, and the content was already loaded, ready to go. Even during normal non-quarantine times, customers don't need to dress up to go out, nor battle a commute for a workout.
The Price. Okay, with the price of their bike at $2,245, its treadmill for $4,295 and a monthly subscription of $39, you may balk at this. But, comparable classes like Soulcycle average out to $28 per class, even when bought in a bundle. Bike owners also love that the whole family can share the bike.
Quality. The quality can't be beat. The bike is high quality, with additional add-ons. The music is high quality (and now all above-board after Peloton settled a series of lawsuits about music being used without permission). The instructors are celebrities with TV-quality live streams from their NY studio.
Recipe for Addiction With a Blend of Competition & Community
There's a number of characteristics that are enabling an addictive experience including:
The Leaderboard. This allows you to compete in real-time with those riding with you live or those who have taken the ride previously. Get chased!
Digital Challenges. You can re-ride and challenge yourself and others who have taken the ride. There are also new challenges each month – join and see how far along you and friends are; let the smack-talk ensue.
Digital High Fives. Get and give high fives to those on a live ride with you. Social karma!
Ride With Friends. See who's currently riding, even on-demand rides and join them.
T-shirts & Badges. Celebrate ride number milestones with t-shirts and badges.
Peloton has long been a cult favorite and we're starting to see why. This 'Netflix of fitness' blends fitness and streaming but also convenience, competition, and community for a perfect storm of addiction — even more so during a quarantine.
Additional Resources