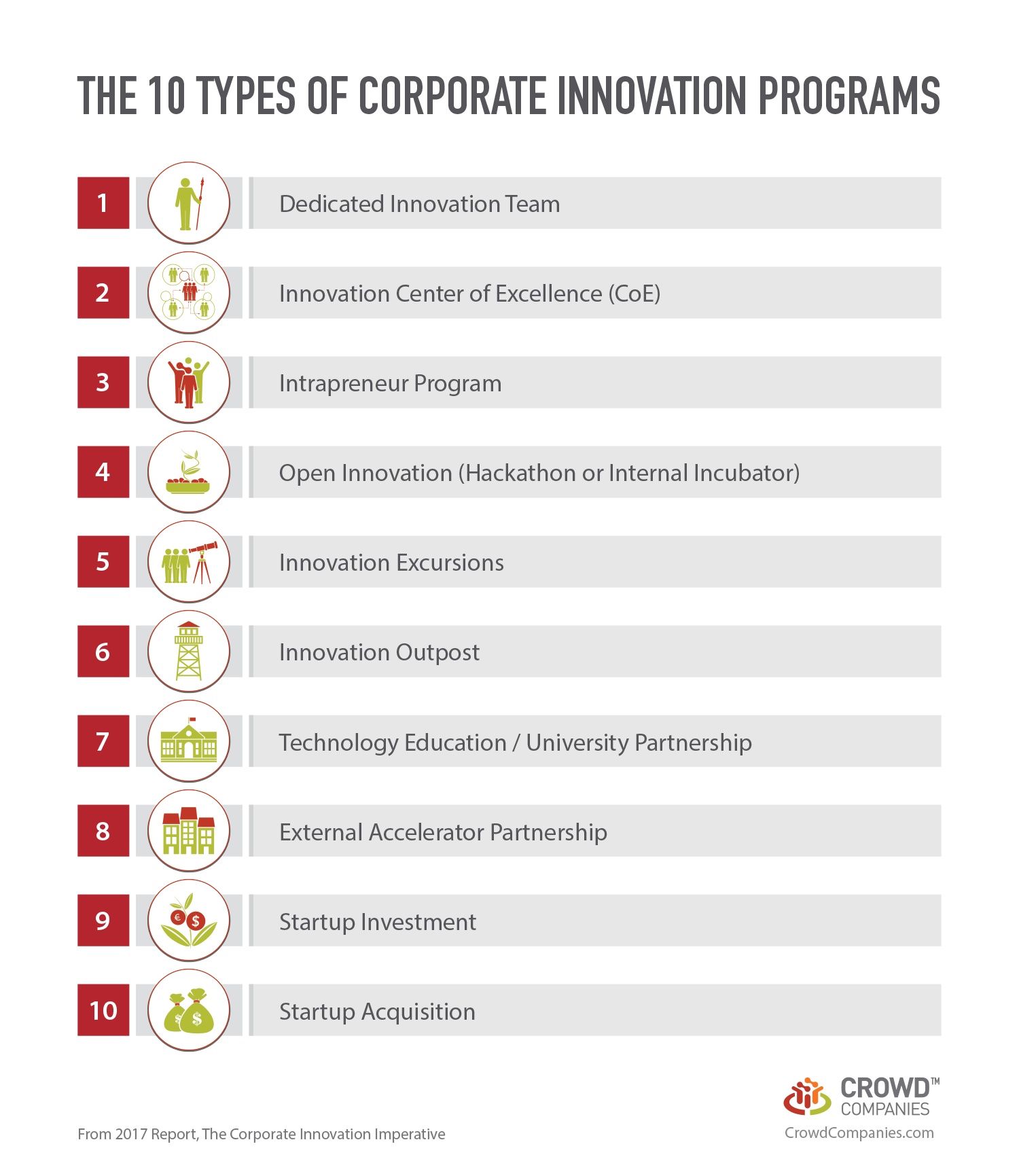 Our recent research on Corporate Innovation Programs (download the high level version) found that companies are attempting to act more nimble and agile by deploying a combination of these innovation programs. Frequency varies, and budgets are skewed around Startup Acquisition, being the bulk of the investment. Corporations are taking pages from startups, to emulate the culture of a fast-moving smaller company.
This list is structured in a logical way: The items listed on the top are happening inside of the company, while the items towards the bottom happen outside of the company. This is not a list that you should automatically approach as a checklist as the order of deployment will vary. For example, some companies have corporate development teams only, that solely exist to acquire startups –rarely to derive innovation from internal teams.
Dedicated Innovation Team
Corporations often start by staffing an innovation team within the company, which is comprised
of both full- and part-time employees dedicated to developing strategy, managing, and activating innovation programs. These leaders are experts at internal communications and are proven change agents. Centralized teams deploy on behalf of the business units, and often act as a governing body when deployed on a global/cross-functional scale to manage multiple innovation team strategies.
Innovation Center of Excellence
Innovation Centers of Excellence (CoE) enable innovation across multiple departments within the
company, and members serving on the CoE are also responsible for senior leadership within various corporate groups. Common departments included in the CoE are marketing/digital, PR, legal, HR, IT, and product. The goal of the CoE is to standardize and scale innovation across the company, providing guidance to efforts that do not yet have dedicated teams or leadership.
Intrapreneur Program
Rather than rely solely on external programs, internal employees – dubbed "intrapreneurs" – are
given a platform and resources to innovate. These programs invest in employees' ideas and passions to unlock everything from customer experience improvements to product enhancements and full-blown internal startups that are then launched from within the company.
Open Innovation (Hackathon or Internal Incubator)
Hosted inside a corporate office, large corporations invite startups to embed at their physical locations
and "incubate" them with funding, corporate support, and other perks. This can also take the form of overnight hackathons, demo days, and online open-innovation programs/contests that request – and often reward – ideas from the crowd.
Innovation Excursions
Frequently, inspiration comes from outside, not within. Corporate leaders tour innovative
organizations, companies, and regions (in Silicon Valley and other relevant tech hubs) to discover trends in various industries, learn from speakers, meet partners, and be inspired as they immerse themselves in innovation culture.
Innovation Outpost
An innovation outpost is a dedicated physical office, in Silicon Valley or wherever innovation
happens in a corporation's key market(s), staffed with professionals whose job is to sense current trends and disruptive technologies, connect with local startups, and integrate programs back into corporate headquarters. Some innovation outposts are host to partners, events, and startups, thereby overlapping into internal accelerator territory. An innovation outpost is typically managed by employees, unlike an external accelerator, which is run by a third party.
Technology Education / University Partnership
Through an educational partnership, corporations can tap into new university graduates, early-stage
projects and companies, and the network of an established educational institution. In addition to traditional universities, there are new private versions opening up that are dedicated solely to technology training, like Galvanize and General Assembly.
Accelerator Partnership
Corporations partner with third-party accelerators to provide sponsorship and/or funding in
exchange for relationships with startups and integration opportunities. Corporate innovation professionals often embed themselves in accelerator offices, fostering relationships with local startups. These external accelerators are run entirely by vendors (investors, advisors, etc.), unlike innovation outposts, which are managed by employees.
Startup Investment
Corporations place bets among the startup ecosystem, with both small investments for early-stage
startups and larger amounts of corporate funding that yield market data, create opportunities for follow-on investments, and block competitors. Intel Capital is a recognized leader in corporate investing, raising $1.28 billion in funds and making 1,094 investments in 769 tech companies to date.
Startup Acquisition
Rather than build innovation from the inside, corporations acquire successful startups and integrate. While expensive, the startup is often already successful, and the acquisition can help the startup
scale further. According to recent studies cited by Global Corporate Venturing, only 5% of corporate venture capital (CVC)-financed startups are acquired by the backing parent corporations.3 A new study from MassChallenge also reveals that 23% of corporations see working with startups as "mission critical," and 67% say they want to work with earlier-stage startups.
Which program is best for every company? We didn't find a silver bullet for all, as it varies on the innovation goals and culture. For example, some cultures are open to employee feedback, and thus an intrapreneurship program makes more sense. However, in some cases, working with outside companies is easiest, so partnering through accelerators or investing in startups is more sensible. Want to know more? Download the  report.