Employees are burning out, losing sleep, becoming less healthy, and being compounded by stress. Furthermore, healthcare costs continue to increase as companies struggle to maximize the productivity of their employees while also retaining them. It's ironic in many ways, but companies are turning to technology to help employees cope with too much technology. Here's a summary note from our deeper research on this space after interviewing dozens of companies, startups, experts and attending events.

With 80% of today's companies offering wellness programs, there is a massive market for services in this space. Apps and comprehensive platforms are filling the needs of employers to provide wellness and engage their employees with wellness offerings. From on-demand meditation to one-stop-shops for all that is wellness, we've rounded up a who's who in today's corporate wellness tech space.

Before we go on, we've found multiple companies that have deployed mindfulness programs or fitness programs that intentionally do NOT use technology, in particular Google's spin-out of Search inside Yourself teaches individuals to be mentally resilient and mindful without tech aids. We also heard from HR wellness industry experts and authors like Joel Bennett and Laura Putnam (thanks Janet Fouts for the intros) that if the company's culture is mis-aligned, no technology or mindfulness practice is going to solve the bigger issues. So take heed before deploying tech without having a broader strategy.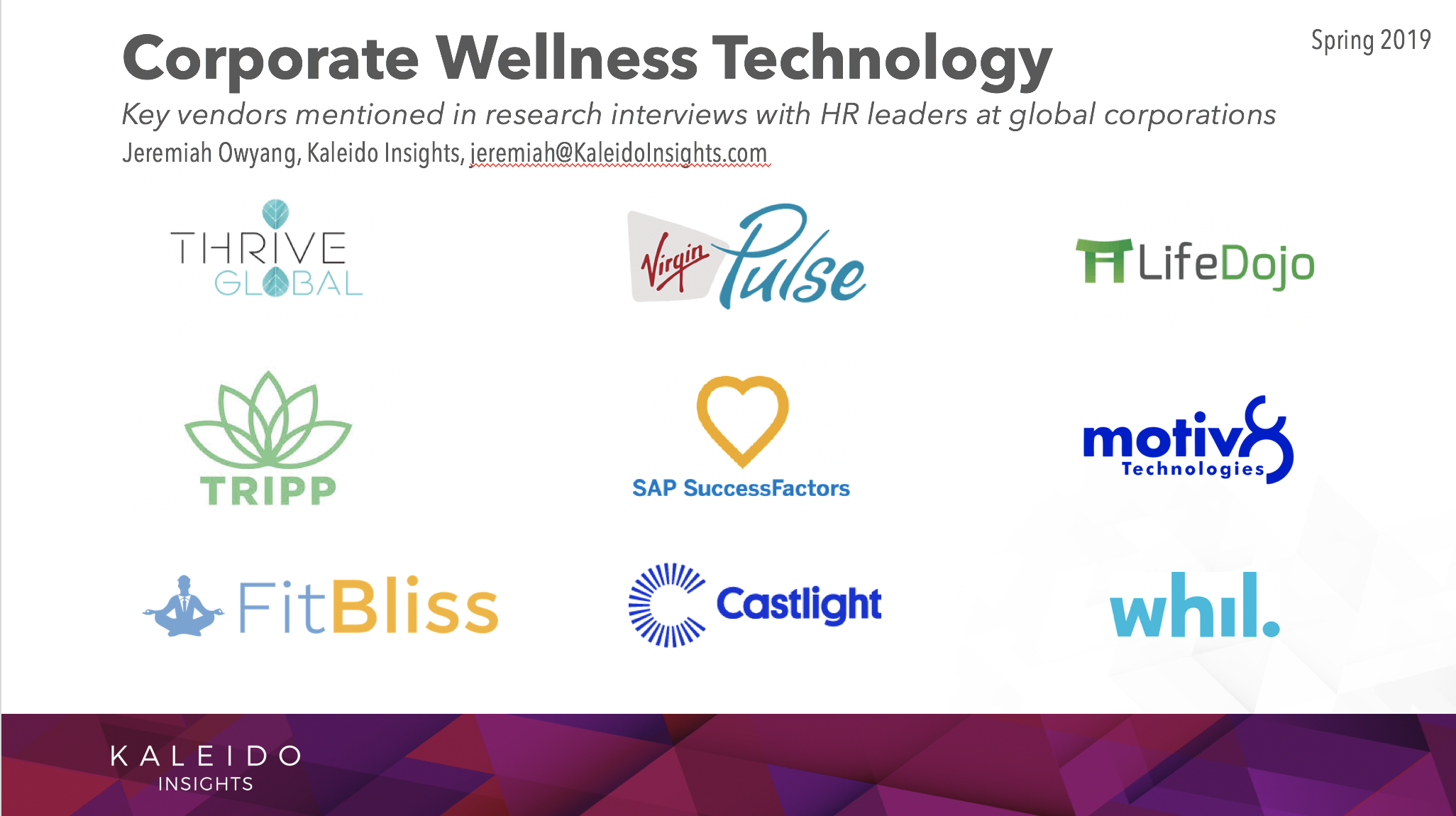 We've interviewed many of these companies, tried their products, or heard from their customers in research interviews, here's an overview of commonly mentioned tech providers:

Thrive Global offers a behavior change product suite to improve the well-being and performance of employees based on behavior change science. After her own exhaustion-fueled collapse, Arianna Huffington founded Thrive Global to reduce stress and burnout and promote wellness. Its offerings focus on these pillars: Integration of Work & Life, Whole Human Approach, Steeped in Science, Actionable Microsteps, Personally Immersive, and Global Scale. In addition to their corporate product suite, Thrive Global has a large wellness content network.

Virgin Pulse equips employees with knowledge, tools and support to build healthy habits to last a lifetime. The core mission of Virgin Pulse is to help businesses reduce healthcare costs, improve business performance, build a great company culture, integrate and optimize benefits and HR investments. A major part of their program is the Global Challenge, a 12-month employee fitness challenge. Virgin Pulse is part of Sir Richard Branson's Virgin Group.

Life Dojo connects employees to their goals and transforms physical, mental and emotional health, one lifestyle change at a time. Life Dojo offers a behavior change platform to address employer's issue of under-utilized benefits for disease management, behavioral health, well-being. The programs that they offer include healthy eating, exercise, stress, resilience, sleep, stop smoking, financial skills, and they provide coaches to help employees reach their goals. They boast a number of clients, many who are fast-growing technology companies.

FitBliss offers a well-being platform that maximizes work performance through better health. Employees can manage their well-being with personalized tools, social engagement, and recognition for achieving their goals. The FitBliss platform includes well-being gamification, health education, health apps & wearables (integrates with most of today's activity apps – Fitbit, Apple Health, Garmin, MyFitnessPal, Strava, Google Fit, Apple Watch, Runkeeper, Misfit, & more), wellbeing collaboration, employer program insights, personalized health management with an AI feature, and FitProductivity on Salesforce. Their platform integrates with Slack and Salesforce.

Castlight Health helps employees better navigate their health options. The focus of Castlight is to reach employees before they make care decisions, and guide them to the highest quality, lowest cost options. They integrate the complete health journey, all in one app, where they can access resources for staying healthy, access their care options and manage their conditions. This is all through the Jiff app acquired by Castlight Health in 2017.

Whil is a digital well-being training solution that helps employees reduce stress, increase resilience and improve their wellbeing and performance for happier, healthier and more engaged workforces. Whil offers 250+ science-based digital programs for mindfulness, sleep, emotional intelligence skills and more for happier, healthier employees. Goal-based resilience training for high performing cultures. Employees improve their mental and emotional wellbeing in micro learning sessions focused on the 12 aspects of employee well-being.

TRIPP is virtual reality that provides mindful, productive breaks. It offers companies of any size a turnkey solution that improves emotional and mental well-being in the workplace through a fun, engaging and innovative experience. Employees can easily launch TRIPP during breaks to help reduce stress, improve overall team productivity and morale. You put on the headset and it takes you through a meditation experience without the work – on-demand meditation in the workplace. I've asked this group to present at client engagements, as the only way to really experience this is in-person.

Motiv8 combines research with machine learning and AI to determine the best behavior change approach. This is an up-and-comer, it's key to watch new entrants – not just established players. By understanding what makes each person unique, Motiv8 uses data science to select the most effective research-validated approach to support employees on their health journey. Founded by long-term entrepreneur from the social business space, Eugene Lee, one to watch.

SAP SuccessFactors "Work-Life" Is an upcoming feature on the already successful SuccessFactors platform that will that helps employees "thrive" at work and home. This solution provides personalized well-being resources and provides employers with aggregate data to identify employee stressors in real-time. This helps companies to improve productivity and their bottom-line. SuccessFactors uses wellness content provided by Thrive Global.

Honorable mentions of consumer apps that are now selling to enterprises: Calm, Headspace and Muse. They offer a variety of syndicated offerings that can be available to large employee bases. In particular, Calm recently raised $88M in funding a few months ago, and is now valued at over $1B. Headspace has clients in the airline industry, NBA, Genentech and many large companies and finally Muse is offering their solution for companies to give active feedback to employees on their mental focus by using their headset device and app.
How do these technologies stack up to each other

| | | | | | | |
| --- | --- | --- | --- | --- | --- | --- |
| Company | Type | Main Benefit | Additional Features | Year Founded | Funded | # Empl. |
| Thrive Global | Comprehensive platform | Behavior change | Use microsteps | 2016 | $50M | 11-50 |
| Virgin Pulse | Comprehensive platform | Behavior change | Reduce healthcare cost, optimize company culture & benefits | 2004 | $92M, acquired | 251-500 |
| Life Dojo | Comprehensive platform | Behavior change | Coaching | 2013 | $7M | 11-50 |
| FitBliss | Comprehensive platform | Behavior change | Maximizes work performance through better health, AI | 2014 | $380K | 1-10 |
| Castlight Health | Comprehensive platform | Navigate health options | Access all benefits in one app | 2008 | $184M, now public | 251-500 |
| Whil | Comprehensive platform | Wellbeing training | Use micro learning sessions to address stress, resilience, wellbeing | 2014 | $0 | 11-50 |
| TRIPP | Standalone app | Mindful breaks with VR | On-demand meditation in workplace | 2017 | $4M | 11-50 |
| Motiv8 | Standalone app | Behavior change | Personalized approach based on AI & machine learning | 2016 | N/A | 1-10 |
| SAP SuccessFactors | Upcoming comprehensive platform | Wellbeing resources | Personalized approach with aggregate data to identify employee stressors | 2001 | $15.6M | 10,000+ |
With the rise of wellness, it's no surprise that we see such robust and established players in the HR Corporate Wellness Technology space – as well as new, emerging technologies addressing employee wellness. There is technology to gather all benefits in one place, track activity, delivery therapy and coaching, video and written content, provide access to standard health benefits and more. The idea is to make it easier to be well and do your job better.

While many companies roll out technology to employees to help them deal with focus, productivity, and happiness, we want to be sure to remind companies and business leaders that the most important strategies aren't just technology, but ensuring your company culture lives by these values, executives are practicing these wellness behaviors, and employees are given permission to use them.

Photo by Pexels, used within license.