It's almost a new year, and we have a lot planned for 2016 to help our members grow their Collaborative Economy programs here at Crowd Companies, which we founded two years ago. I wanted to share with you five items that we're focused on:
Content and discussions that focus on "how to" deploy in innovative markets,

Leading our members through the six-phase Innovation Journey methodology,

Over five physical events, plus private roundtable dinners for members,

An additional topic focus, the "Autonomous World" (drones, self driving cars, AI)

New employees, to serve our growing member base
Next year, we'll focus even more on the "how to" of program development, providing the in-depth tools you need to determine opportunities and begin defining initiatives related to the Collaborative Economy, innovation, and other disruptive technologies. To do this, we have a number of offerings planned:
Building Out "Crowd Innovation Journey" Resources, a Roadmap for Business Change
If you attended our October Main Event in San Francisco, you'll remember our Innovation Journey, a framework we developed to guide members through the six stages of program development, prototyping, and deployment (see below).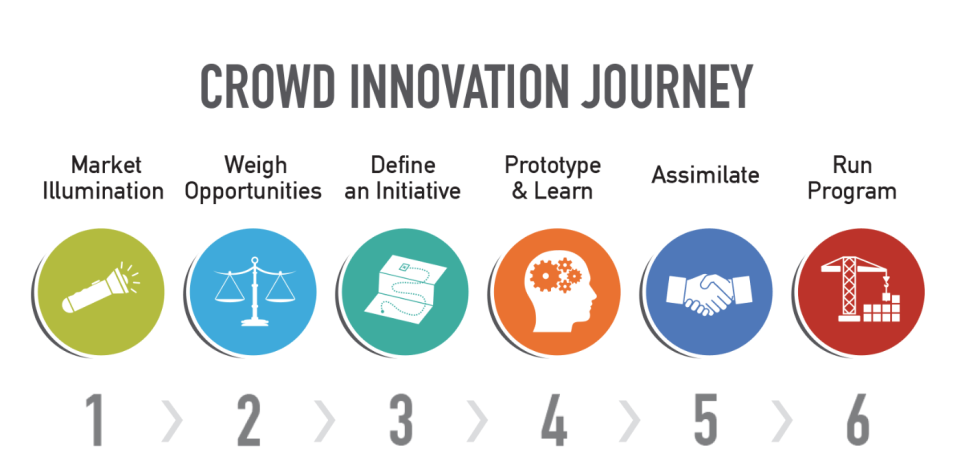 In 2015, we began organizing existing Vault resources by phase of Innovation Journey, and in 2016 we'll be building out a series of useful tools that align with the initial stages of this journey. These tools may include:
Member Program Spotlights

Company Adoption Survey

Feasibility & Readiness Diagnostic

Use Cases by Industry Vertical

Business Case Template

Partner/Supplier Tools

Collaborative Economy Business Models Report
Hosting In-Person Events and Online Session, Group Calls
We have five in-person events planned for 2016 (with some additional regional roundtables in the works), in addition to your monthly session calls with industry thought leaders and group calls with fellow members. These events are included in your membership:
Tour and Salon: Future of Mobility in the Age of the Autonomous World,

Jan. 21 | 3:30pm – 8:00pm | Silicon Valley

SXSW Brunch Member Panel and Social, March 12, 2016 | Austin, Texas
Spring Summit: Co-innovation for your Brand, April 28, 2016, with optional evening tour April 27 | Hallmark HQ, Kansas City, Missouri
European Summit: The Global Collaborative Economy, June 22, 2016 | BMW HQ, Munich, Germany
The Main Event, October 5-6, 2016 | San Francisco
Regional Roundtables, Feb in NYC | Others to be determined
Expansion of Crowd Companies' Topic Coverage: Autonomous World
As previewed by our kickoff event of the year, Crowd Companies will be broadening its coverage in 2016 to include additional topics that affect our innovative members. The council will continue to support its members as they deploy Collaborative Economy programs, while also expanding its focus to assist members as they adapt their business models to other tangential technologies that stem from these crowd movements.
The first focal point you'll begin to see content and resources emerge around is what we're calling the "Autonomous World" where robotic hardware and software perform tasks once performed by humans, often using the same business models from the collaborative economy. In January, we'll be hosting a member event where we'll examine the impact of self-driving vehicles, drones, and artificial intelligence on all industries and society as a whole. Also release a research report for members and and a related infographic for public consumption.
Adding a New Member Success Manager to our Crew
Finally, we're pleased to announce the newest Crowd Companies staff member, Carl Bohlin, whose primary goal will be to understand our members needs, and strategically matching them to a variety of innovation resources that the council offers. Crowd Companies has over 200 members, spanning 50 companies, across multiple countries, as such, Carl will work with Angus on member success initiatives to assist the council in its growth along the Crowd Innovation Journey. He has more than 7 years experience in managing peer-to-peer councils at Forrester and Giga, and has a background in IT and financial services. Carl joins us on the east coast.
If you work for a large company, and want to learn more about membership, please submit your details to our online submission form. 2015 flew by, and I'm looking forward to growing with you all in 2016. Let's keep the momentum going. Cheers to you and your loved ones in a prosperous new year!
Warm Regards,
Jeremiah