By Jessica Groopman, Jaimy Szymanski, and Jeremiah Owyang
A new internet movement called "Web3" has emerged. A rejection of the massive control, financial, and information asymmetry that resulted from Web2's search, e-commerce and social media giants, the vision of Web3 is to use distributed digital networks to shift power back to participants.
This post will first define Web3 for the business leader by explaining the capabilities these emerging technologies enable for participants. Then we'll address the dynamics of this ascendent, if hotly debated tech movement.
Our definition attempts to bridge an analysis of (early-stage) Web3 applications and market dynamics, with key technological enablements of decentralized, distributed, and hybrid network designs. Here we focus on people (individuals and end-users): how are participants enabled by Web3?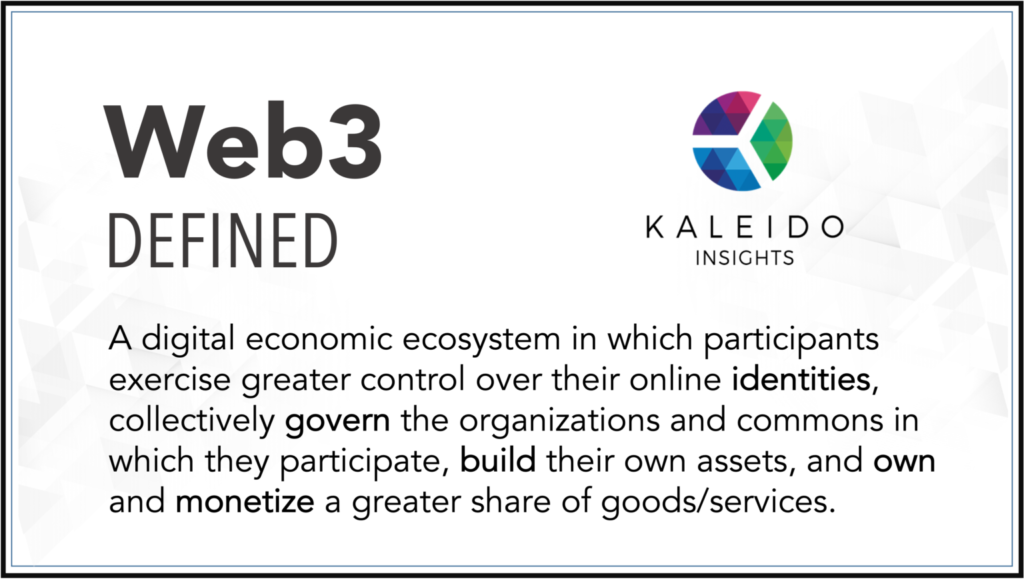 A digital economic ecosystem in which participants exercise greater control over their online identities, collectively govern the organizations and commons in which they participate, build their own assets, and own and monetize a greater share of goods/services.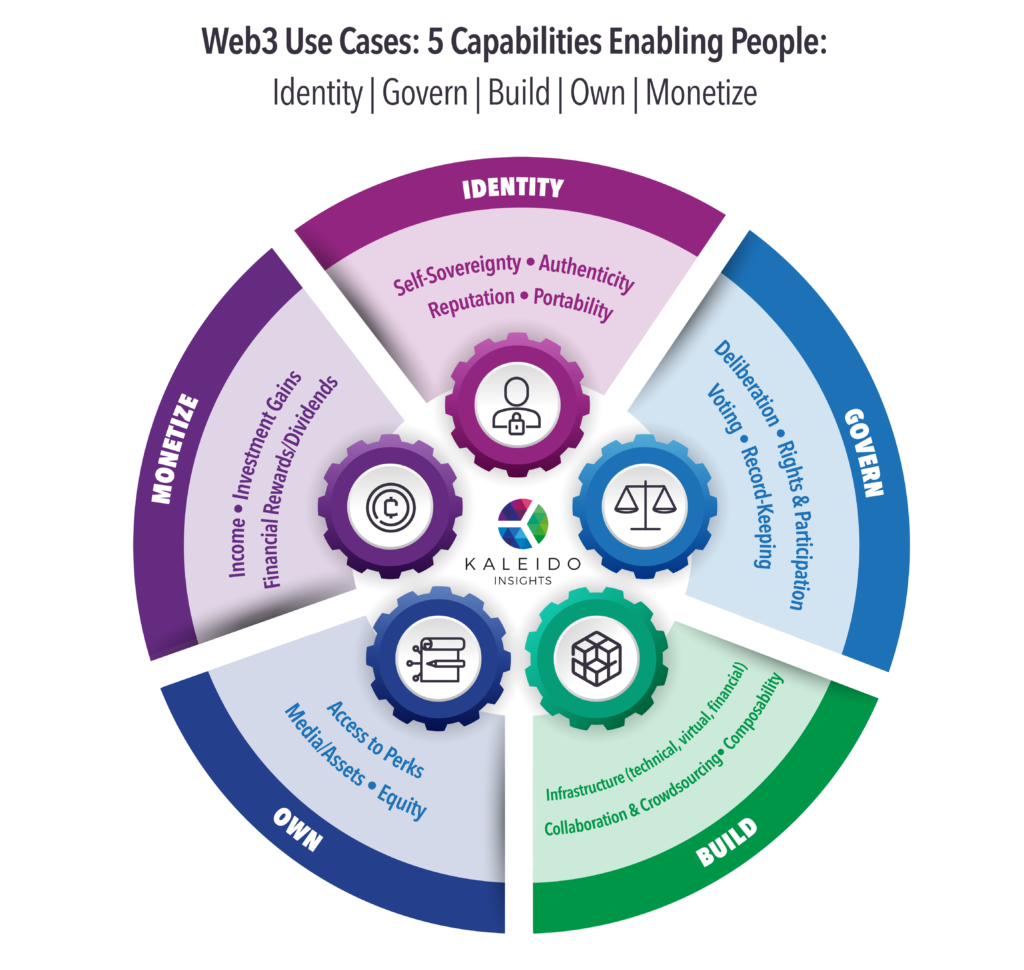 To help illustrate the five primary ways that the participants of Web3 are collaborating, we'll tell the story with a fictional character, Casey:
1. Identity: Casey decides how to manage (display, share, move, delete) multiple facets of her identity (real time, pseudo, or anonymous) and can also choose which of her preferences, or social graph, are shared.
Self-Sovereignty
Authenticity
Reputation
Portability
2. Govern: Casey and the communities she's part of, can govern (propose, deliberate, delegate, vote, verify, and ratify), with greater automation and verifiability enabled smart contracts.
Deliberation
Rights & Participation
Voting
Record-keeping
3. Build: Casey can participate in the development (design, publish/mint, code, display, share, compose) of products, services, organizations, micro-economies, assets, and experiences.
Collaboration/Crowdsourced
Infrastructure (technical, virtual, financial)
Composability/Iteration
4. Ownership: Casey decides how and when to manage (buy, update, sell) contracts on the blockchain which link to assets. Other participants on the network can see the provenance, origin, and ownership.
Media / Asset
Equity
Access to perks
5. Monetize: Casey can participate in diverse forms of commerce (buy, invest, hold, swap, sell, earn/stake, lend, destroy) and can do so with micro transactions or large sums, not counting for fees. This capability applies for cooperatives, causes, and profit-seeking endeavors.
Income
Investment Gains
Financial Rewards/Dividends
Putting Web3 Into Context
Definitions for Web3 are often overly technical, or overly simplified. Above we surface the key capabilities, but what are its technological underpinnings?
Web3's technical infrastructure is most often based on blockchain, smart contracts, protocol-based networks, and open source tools.
Web3's digital assets are distinct in form and authenticity, as they are registered on decentralized networks, and asset types (e.g. fungible and nonfungible coins, stablecoins, tokens, etc.) are evolving rapidly.
Web3's user experience (UX) includes a wide range of interface applications, from familiar browser-based websites that integrate a crypto wallet, decentralized apps "dApps", and 3-D virtual environments à  la metaverse.
While Web3 remains a vision for the internet, the influx of funding, talent, applications, and corporate interest is growing rapidly, reaching all time highs in 2021.
The term "Web3" took hold only recently, though it effectively acts as a rebranding of crypto and blockchain technologies because both are core to Web3 applications. Distributed ledger (blockchain) technologies, which can validate transaction records without centralized oversight, and decentralized currencies have been around for some time, but a wave of new applications and economic models are emerging.
As a 'next-generation' framing, after Web1 and Web2, the term Web3 incorporates numerous other subsectors (buzzwords?), such as "DeFi" or decentralized finance, "The Metaverse," decentralized autonomous organizations (DAOs), the "Creator Economy" and more. With so much rapid development, Web3 is the subject of passionate debates across a wide range of ideological, political, and economic stances, perceptions of technological and financial viability, and questions around equity, regulation, and environmental impacts.
One certainty: Web3 remains in its infancy today, and its structures, use cases, and impacts on tomorrow are evolving.