This market forecast includes an overview and contains predictions of the rapidly growing social audio market. I have been a technology industry analyst in relevant markets like social media and the sharing economy for over a decade at tech research firms.
What Is Social Audio? Real-Time Voice Conversations With Social Features
If you were familiar with Party Lines four decades ago, you remember how friends and strangers could dial up to audio-based conversations regardless of location. In 2021, instead of landline phones, quarantine-limited users are downloading apps for real-time conversations with friends and family.
The visual interfaces may vary, from emoticons to text chat integration to avatar integration. Modern app versions contain social graphs, groups, and other social networking features you find in popular tools like Facebook, Messenger, WhatsApp, etc.
Why It Matters: The "Goldilocks" Medium
I call this the "Goldilocks" medium for the 2020s: Text is not enough, and video is too much; social audio is just right. It represents the opportunity for social connection and empathy without the downsides of video. Why is this use case taking off? – humans, stuck at home during quarantine; readily available smartphones and apps; cloud-based technology and easy integration platforms like Agora; the desire for human connection beyond text; and fatigue from too many video conference calls.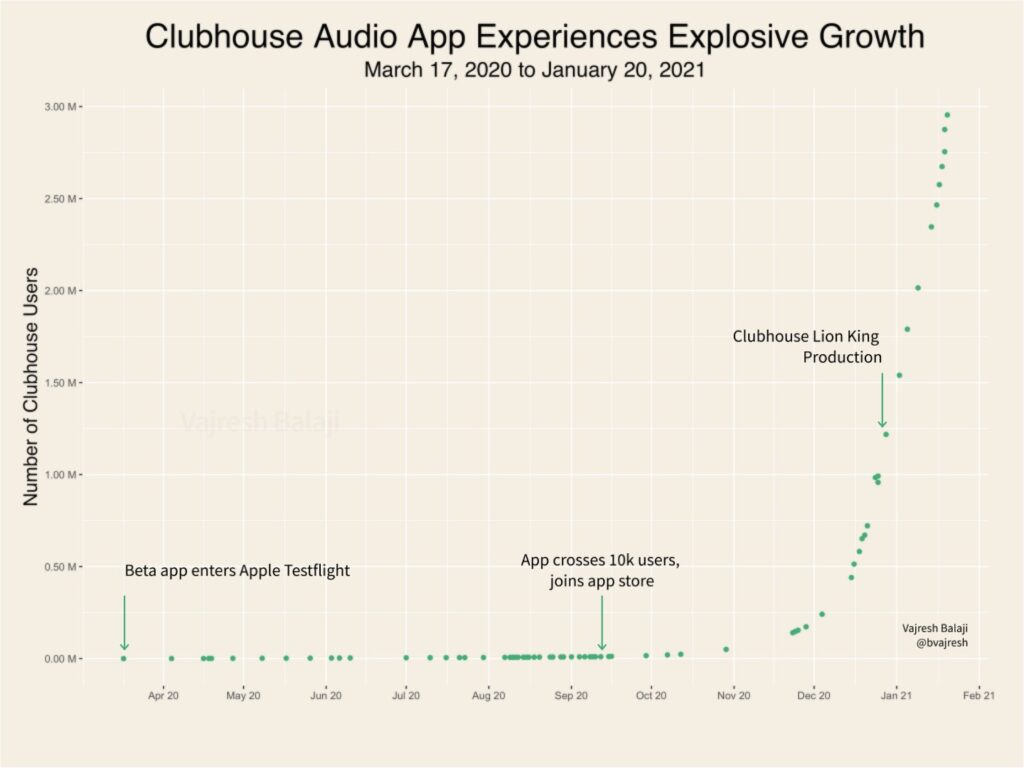 Above Graphic: Clubhouse Social Audio Platform (I joined in June 2020) has shown explosive hockey stick growth, starting with a small group in beta, hitting the 10k mark and joining the Apple App store, witnessing the Lion King performances, and growing in international markets. Data from technology and economics expert Vajresh Balaji. (updated version here, from Vajresh shows 5M users, in a few additional weeks)
---
Social Audio Companies, A Rapidly Growing List:
JoinClubhouse ($1B valuation)
Amazon/Twitch (added Aug 2021)
Listen to Blast
Eternal
Tweet at @jowyang to submit more
When will Facebook, Google, Apple, or Tencent join the conversation? Will Spotify or iTunes integrate real-time conversations just as they stream live news?
---
Roadmap: Social Audio Features
Most Conversations are Recorded
In order to get data, nearly every conversation will be recorded, whether it's from the social audio platform itself, or from 3rd party bots that will record for social platform analysis startups, or from nefarious 3rd parties. Best to always be mindful of your words.
Audio Analysis: Who's Saying What
As the publishing platforms emerge, the next phase will be social audio analysis. We will see bolt-on features on top of the social audio startups, as well as stand-alone analytics software, plugins, and enterprise-ready versions. Features include: social network behaviors, influence analysis, language translation, voice to text, text to voice, NLP, sentiment analysis, cultural nuance analysis, heat maps, content optimization, and conversation forecasts. A mixture of AI, cloud computing, human analysis, and account services will be used.
Specific Data Types Include:
Top influencers (conversation leaders, audience retention, audience engagement)
Social graphs: who follows who
Conversation spread: topic spreading
Sentiment: what is the opinion of topic or person?
Impressions: total reach
Audio engagement rates
Click thru rate, call to action
Record and Publish: Content Extended as Podcasts
The real-time social audio networking category will integrate with the podcasting industry. The social audio platforms will offer recording capability. A small segment of DIY recording artists will capture this information and republish on iTunes, Spotify, and more.
Crypto Integration, Decentralized Talent, and Conversations
Currently, crypto is already being introduced into the creator economy, both with NFT tokens as well as Creator Coins for individuals using Rally.io (disclosure: I'm an advisor). Crypto will enable creators to build loyal followings regardless of the audio platforms they're part of, as their fans purchase tokens of influencers as well as exchange coins for premium features. The value of the coins will increase as the influence of the audio creators increases.
Audio Improvements Offer Premium Experience
These startups will introduce a number of features, including: spatial audio (Sonar enables users to move around a 2D map which changes the volume of conversations and music, depending on distance); background noise removal and cancellation (removal of barking dogs, laundry machine, crying kids, heavy breathing, etc.); premium audio (better fidelity of voice or sound); analytics (track followers, conversations, conversation success – credit to Affan Imran for the suggestion). Expect voice filters (akin to instagram filters for photos) to emerge to augment voices. Expect text to voice AI bots to integrate.
Top Social Audio Influencer Will Be a Bot
As AI continues to improve along with humans' acceptance of digital entities as pop stars, a peculiar audio social star will be a chatbot. This bot, which will at first be a curiosity, will use natural language processing and data analysis to quickly analyze the profiles of users to engage in awkward and eventually more natural conversations. It's possible, your favorite conversationalists could be Siri or Alexa.
Dynamic Rooms Assemble on the Fly
Rather than title a room or choose a room, club, or group to join, conversations will be curated by AI based on location, time of day, or mood. Users can select "motivation" room, "chill" room, "thoughtful conversation" room, or "coworking room," and be dropped into an existing conversation with friends or with people they have not yet met.
Live Voice Conversations Embedded Everywhere
In this mature phase, we will see live conversations embedded on every single webpage, article, and beyond. Using APIs, these social audio conversations will be available as users read articles, watch shows, play games, and traverse the physical world. Imagine reading an article, then choosing to listen to experts discuss the content in real time or hear opinions recorded from your trusted circle. Users could leave voice messages or recorded conversations in physical locations, like the geocaching community leaves physical items.
---
Over Fifteen Business Models For Social Audio:
User Business Models: Fremium and Premium:
Advertising and Marketing Business Models:

Branded clubs
Promoted rooms
Ads: banners, text, audio
Sponsored audio influencers
E-commerce (ht: Neeraj Mathur)
Data Monetization Business Models:

Data analytics: premium for advertisers/gov
Firehose: access to raw data from servers, i.e., Twitter Firehose
API access: access to build apps
---
Six New Product Categories Will Emerge:
Social Audio Analytics (SAA)
This market will record, analyze, provide insights and recommend how to optimize social audio conversations and content. Features include: social network behaviors, influence analysis, language translation, voice to text, text to voice, NLP, sentiment analysis, cultural nuance analysis, heat maps, content optimization, and conversation forecasts. A mixture of AI, cloud computing and human analysis, and account services will be used. Relevant market: social media analytics and monitoring market, which was easily at $10B market with the notable acquisition by Salesforce of Radian6 for $326M in 2011.
Social Audio Management Systems (SAMS)
This market, primarily software, will provide features that integrate many social audio networks, e..g., quickly manage accounts on Clubhouse, Twitter Spaces, and Discord at the same time. Some vendors may link real-time conversations, integrating in real-time. Additionally, some players will build audio publishing tools with background noise removal, voice filters, real-time analytics, and even music or sound effect integration.
Social Audio App Partners (SAAP)
Imagine an application marketplace connected to Clubhouse or Twitter Spaces that features 3rd party developer apps. The social audio platforms may open an API that will enable thousands of smaller developers to build plugins, games, and collaboration and other apps. The most likely first feature will be audio filters or account management startups.
Social Audio Enterprise Software (SAES)
As social audio networks become popular in the consumer space, companies will emulate. A class of enterprise-ready voice systems will emerge for employee-to-employee or customer-to-employee, or customer-to-customer. These per-seat or annual subscription models will offer higher grades of security, backup, and recovery, and integrate with enterprise permissions and directory systems. Visual-based versions will emerge that emulate physical offices, akin to audio-based Sonar's 2D landscape.
Social Audio Services and Advisors (SASA)
This broad category will include individual consultants, boutique agencies, and full-service interactive agencies that offer services that include but are not limited to: education, strategy, content planning, voice talents, executive training, analysis and recommendations for brands and celebrities to successfully have social audio presences.
Marketplace: Voice and Conversational Talent (MVCT)
Additionally, we will see a marketplace emerge for voice talent with conversational skill sets. Similar to Upwork meets Cameo, this software startup will serve as a talent broker and will offer talent, including celebrities, actors, athletes, and voice actors. Other beneficiaries will be emcees, conversationalists, therapists, coaches, business speakers, spiritualists, and well, friends to talk to. Brands can hire talent to participate in audio social networks, sponsor them, and more.

---
Market Predictions:
Rapid market adoption: Social audio skyrockets due to quarantine during 2021 and beyond.
Additional funding beyond Clubhouse: Most markets have 3 major players, first, largest, and different. Venture capital will also fund startups in the above-referenced product categories.
Massive acquisition by consumer tech giant: Feeling left out, Facebook or Google acquires a top social audio player in order to stay in the race against Clubhouse and Twitter.
Massive acquisition by enterprise tech: Lacking ability to quickly innovate, a massive enterprise tech company acquires an enterprise social audio player and integrates into collaboration technology or communication suites.
Post-quarantine market pullback: Ideally, society gets a handle on Covid-19. This will result in a mass rush to travel and taking vacations, resulting in a slight reduction in social audio adoption (I'd guess 30%). Then as travel normalizes, people will seek to reconnect.
Market shakeout: Only a few players will remain, unsuccessful startups will wilt, and market consolidation will begin. Some companies will shift to the VR and AR categories.
Normalized: Integration: Social audio integrates into every digital touchpoint as another interaction point instead of or in addition to comments or emoticons.
---
Conclusion
The social audio category has many parallels to the social networking industry but will have faster adoption as it sits on top of existing smartphones and apps. Historically, I'm directionally right in my forecasts, but my timelines are usually off – my forecasts often happen faster than I expected! I look forward to your comments below or in, well, social audio.
---
Select Media Coverage:
---
Additional Resources on the Notion:
"Audio First Communities." Hat Tip to Andrea Hernández.
Photo Credits:
Pexels David Sanchez
,
Sound On
,
Sound On
.