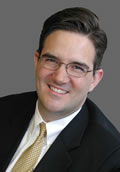 I listened to a session by Fredrick Marckini, (Pic left) CEO of iProspect
I enjoyed the session by, focused on Search Engine Optimization vs Paid Search Engine placement fantastic session by Fred, He used a roving mic and spread it around the room, asking questions and using audience participation –harnessed the "wisdom of crowds"
Using both Search Engine Optimimzation (SEO) and PayPerClick Advertisting (PPC)
Interplay between Organic and Paid is key. They could fight against in each other, or could be an increasing share of lift together.
He gave example of a Product Launches the Segue did not purchase keywords on a launch, and after announcing the product via TV, people went to Google the product with no results found.
Research indicates that 60% of users click on natural search results while only 40% click on paid
It's recommended before you heavily invest in keywords to test to see which ones work best.
Sometimes organic search brings nasty results, and leads to pages that web managers do not prefer
Often Product launches take 30 days for spiderbots to crawl and find –consider paid search up front
Some members preferred to purchase keywords just to have more ownership of results page
Case Study: Intuit cut off paid search for 2 weeks and the users clicked on Organic listings (Avinash, do you wanna chime in here buddy?)
A question if all paid keywords be ROI? Or is the volume not there.
Ironic Observation, using a survey of hands Apparently many competitors are buying keywords of the companies here. However only 3 admitted that they are buying keywords of competitors –someone's not admitting something
Often users will use google.com to find 'google' or 'yahoo'.
Yahoo paid inclusion is natural and paid…submit xml site map, and you only pay if they click on it. It's found in the natural results.
Summary:
-Companies need a combination of both SEO and paid SEM to implement tactics
-Do forget that Search Engine Marketing is one component of your overall Holistic Web Strategy –it's not the entire focus, and it may not guarantee repeat visitorship of a substandard website.
-Don't forget that the web can be used to build relationships and community by supporting two-way communication through online conversation. This is the future of websites –it's a dialogue.