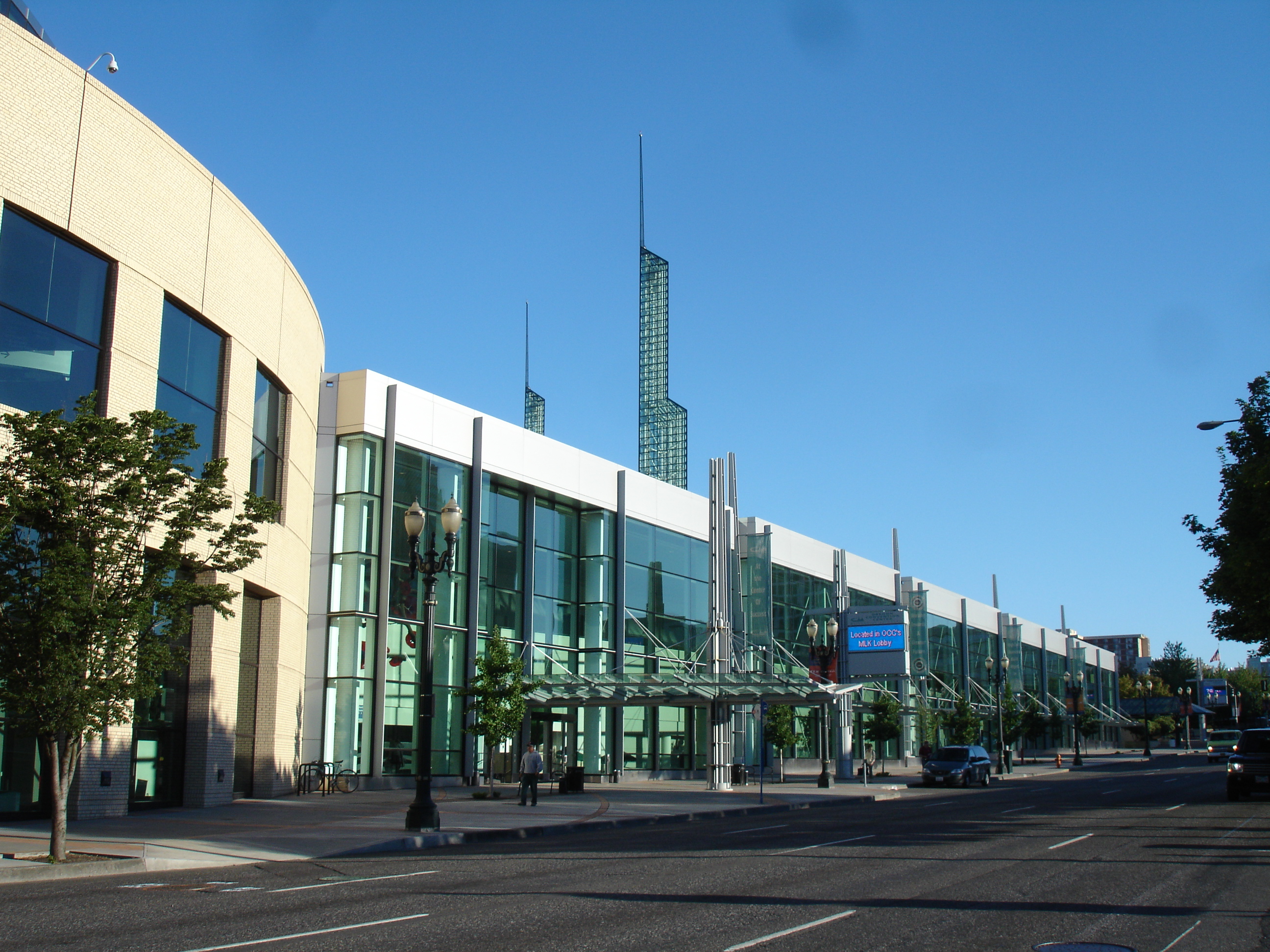 Left: Oregon Convention Center
This post will be morphing and changing throughout the day. Please excuse any typos in advance, my goal is to capture the knowledge for the collective rather than present a perfect script. I'll be capturing both by text, still image, and even video throughout the day.
At about 1:30 I'll be speaking on this panel –we've got some great ideas and a well thought out presentation, I'll point to an audio file later. Being the early bird that I am, I've taken a few photos of the city this morning, will upload more later.
Initial observations of Webvisions (I'm one of the first to arrive is how well staffed the event is) Kirsten Blair from nemodesign was kind enough to introduce herself to me –she's a host to the speaking staff. I can hear the chatter from Ross, one of the event coordinators on the squak boxes –these guys mean business and are well organized.
I did a podcast with Brian Oberkirch and Gregory Narain. We had some discussions on the generations of blogging to building communities, some tools for backing up products, and the learning more about Brian going solo. We talked about youtube, and Brian suggested to take a look at Blip tv

Video
Session: Becoming a Pro Blogger
With Matt Haughey
Sitting next to Tristan who's a speaker as well –I've done some thoughts on his content on Social Networks –small world. I think he's building his slide deck for tommorow –heh, web speakers are like that.
Pick a topic you're passionate about.
Make a living from your hobby.
Thinks the SEO industry is a bit seedy –trying to trick engines to like you, why not focus on good content?
He's working with Federated Media, who has a strong sales team (like James Gross), discussed Pajamas media —
Mentioned that blogs and websites that depend on ads could be jeapordized by grease monkey.
It's not hard to make a few hundred bucks a month.
One question from audience commented about Ads do work, that's why they do them, Matt responded that they shouldn't be as annoying.
Matt publishes PVR blog about Tivo –kind of a Brand Blog.
Session Business Blogging
DL Byron
Matt Haughey
Andy Baio
Derek Powazek
Brian who was sitting next to me took such killer notes, I'm just going to link to his. 😉
Session: Stepping away from the Computer by Andy Baio
This was a great presentation by Upcoming's founder Andy, he told me later this was his first speech, I was sure he'd givin it before. He demonstrated how communities –using web tools –are able to connect both in real life as well as online. The most effective (or at least interesting examples) are those fo communities that meetup from a bottom up (meaning self-organized) rather than top down (marketing lead). He gave examples of Ham radio meetups, discussed some top-down myspace meetups. Later, when we chatted in the hall, we explored the ideas of communities being built/harnessed/or pre-existed around companies. Adam has some notes here